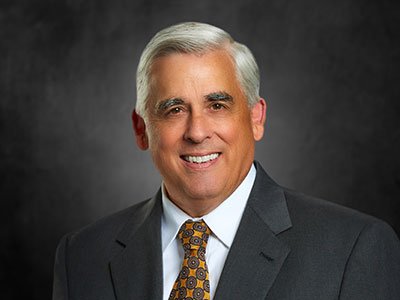 Personal Injury Law
"Personal injury" simply refers to a situation where someone has been injured or killed as a result of an accident or someone's negligence. An injury may occur anywhere – in a car, truck, motorcycle, home, workplace, hospital, or any public or private place. It may involve injuries from a dog bite, or injuries from a defective or dangerous product. Read more...
Litigation and Trials
Our award winning attorneys who practice in the area of Litigation and Trials are not just litigators. Each year, we try numerous cases to verdicts before juries, judges and arbitrators. One problem can have numerous solutions, resulting in a variety of possible outcomes. A client's ability to achieve their objectives in litigation – a favorable settlement or a trial win – are enhanced by counsel who are known for taking cases to trial. We are proven trial attorneys. Read more...
Well known and respected trial attorney Bruce R. Bachhuber is the senior partner at Hanaway Ross Law Firm. A native of Wisconsin, he graduated from University of Wisconsin-Green Bay, with honors, in 1978, and from University of Wisconsin Law School, with honors, in 1983. Bruce has tried numerous complex civil litigation cases, and over the course of more than 35 years has helped individuals and their families cope with injuries or death resulting from auto accidents, defective products, unsafe premises, and civil rights violations.
Bruce served as President of the Wisconsin Association for Justice (WAJ – formerly Wisconsin Academy of Trial Lawyers) in 2004, and has served on the executive, program and legislative committees and as a regional officer for WAJ. He remains a member of the WAJ Board of Directors.
In 2015 Bruce served as Chairman of the Litigation Section of the State Bar of Wisconsin, a group composed of an equal number of plaintiff and defense lawyers interested in the development of tort and insurance law, and dedicated to the continued preservation of trial by jury.
Appointments and Awards:
Attained the highest rating, AV, by Martindale Hubbell, a respected peer review publication.
Recognized as a Wisconsin Super Lawyer by a publication devoted to identifying the top 5% of all lawyers in the state.
Appointed by the Wisconsin Supreme Court to serve on the Office of Lawyer Regulation's District 14 Committee, a group responsible for investigating complaints of lawyer misconduct. Bruce served on the committee for eleven years, five years as Chairman.
In 2018 Bruce was invited to become a member of the American Board of Trial Advocates, an invitation only group of experienced trial lawyers fifty percent representing the plaintiff and fifty percent representing the defense. An invitation requires approval by a vote of seventy-five percent of the members.  There are only 83 members in the Wisconsin Chapter.    
Litigation Experience Includes:
Largest personal injury jury verdict in Brown County – $12.2 million verdict for a Green Bay man who sustained a spinal cord injury as the result of a defective product
$1.05 million settlement for the family of a millwright killed when a steam pipe burst at a work site
$1.6 million settlement for the family of a small business owner badly injured in a vehicle collision.
$1.565 million settlement for a young woman injured in a motorcycle collision.
$699,000 jury verdict for the family of a man injured in a motor vehicle accident.
$497,000 jury verdict for a man who lost three finger tips in a work injury.
Jury verdict and $3.2 million settlement after successful appeal on civil rights claim by family of anonymous citizen informant murdered after police disclosed identifying information about the informant – see article about the case in the L.A. Times.
$660,287 jury verdict for a woman injured in a motor vehicle accident.
Reported appellate cases include the successful appeals relating to the civil rights case, both in the 7th Circuit Court of Appeals, as well as the Wisconsin Court of Appeals.
Represents businesses in a variety of disputes including breach of contract, employment issues, non-compete matters, and related commercial disputes
Community Involvement:
Frequent speaker at programs sponsored by the Wisconsin Association for Justice and the State Bar of Wisconsin.
Member of the Aurora BayCare Medical Center Ethics Committee.
As the parent of a child with special needs, Bruce enjoys assisting special needs children and young adults that participate in Special Olympics.
He was recognized by the Brown County Association for Retarded Citizens with the President's Award for his service on behalf of the mentally retarded.
He remains a strong advocate for the rights and protection of those who are disadvantaged.
Education and Admissions:
Undergraduate Education: University of Wisconsin-Green Bay B.S. 1978 (with honors)
Law School: University of Wisconsin – J.D. 1983 (with honors, cum laude)
Admitted to the Wisconsin Bar Association in 1983.
Admitted to practice in all Wisconsin state and federal courts, the Seventh Circuit Court of Appeals and the United States Supreme Court.